05/19/2014
Upcoming Show ⚑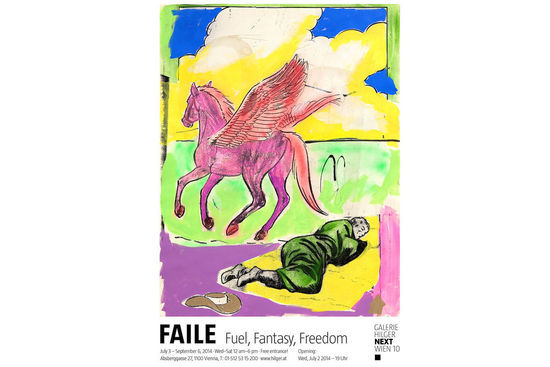 FAILE
Fuel, Fantasy, Freedom
Galerie Hilger NEXT
July 2nd - September 6th 2014
In the summer of 2014 FAILE return to Europe with a new, multimedia set of works, Fuel, Fantasy, Freedom. While FAILE's painting and sculpture have long played with fantastical characters and scenes, the new material that debuts at the Galerie Hilger NEXT on July 2nd delves into the uncanny realm of childhood memory, dreams, and exploration like never before.
Sometimes this is whimsical—many of the works depict familiar scenes of fairy-tales and mythology, re-imagined through FAILE's system of juxtaposition and inversion. At other times—in the case of magazine-style centerfolds of tricked-out seventies muscle cars—FAILE invoke the near-talismanic objects of adolescent desire. Like the pop-artists that once inspired them, with Fuel, Fantasy, Freedom, FAILE zero-in on an icon of North American freedom during the 20th century, and the rich graphic culture that surrounded it, from uniforms and decals to posters and glossy magazines.
Formally, Fuel, Fantasy, Freedom is both an evolution and a departure from recent sculptural forms and assemblages with wood. Painting has long been at the core of FAILE's practice, and here they take inspiration from the openness and simplicity of children's drawings, emphasizing simplified but vibrant colors that underlie their screen-printing. While such an approach was pioneered by the Blue Rider Expressionists and Andy Warhol alike, FAILE's work on paper adds a delicacy and chromatic intensity to this lineage. Of course, FAILE is well known for reinventing entire genres using their own rogues gallery of characters and typographies, and in Fuel, Fantasy, Freedom, they take on the graphic landscape of the racing world, envisioning "customized" new cars and presenting their logos as most teenagers would have seen them—sexy spreads attached to garage walls, or collectable patches to be sewn to jackets or driver's gear.
Taken together, Fuel, Fantasy, Freedom's works on wood, paper, and fabric are some of FAILE's most personal to date, reflecting on multiple generations of family while creating an uncanny space of innocence and desire, and reveling in the freedom of the studio and the open road.
---